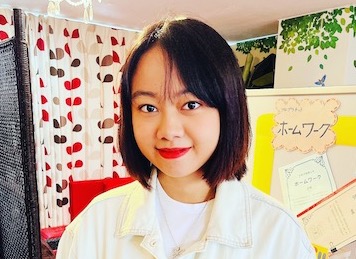 Asha アシャ
国籍:

インドネシア

言語:

インドネシア語・英語

出身地:

ボゴール

趣味:

バドミントン
教師の挨拶:
Hello! I am Asha!
I come from Indonesia and my hometown is in Bogor, a suburban area close to Jakarta where you can find the presidential palace and many authentic Indonesian culinary.
I am here in Japan since 2019 to study for my undergraduate program. The reason why I chose to live in Japan is that I am familiar with and love Japanese culture as I once lived in Tokyo for one year. The one-year experience gives me crave to live in Japan again so I decided to be an international student in Osaka. Other than living in Japan, I lived in the UK too for a while!
I used to be fond of going to Central London where I could window shop and just hang out with my friends at some cafe or town square.
Some of the things that I like are K-Pop, drawing anime, cafe-hopping, and listening to music. Currently, I put my interest in learning how to draw dessin!
Sports I enjoy are badminton, table tennis, and golf. I love skiing too! But I have only done this once in my life when I had a ski trip in middle school.
Also, I really love animals! I can spend most of my time watching cat or dog videos and scrolling through cute animal pictures. And actually, I used to have pet birds and rabbits in Indonesia whom I really miss until now~